Don't just celebrate one day of the year with loving thoughts; make it a year-round event sharing luxurious bamboo sheets.
Valentine's Day is that time of the year when we show that special someone how much we care, so what better way than to give them luxurious bamboo bed sheets, with all the natural benefits that make sleep better?
Bamboo sheets and bedding add a new dimension to sleeping. Naturally antimicrobial and antifungal, sustainable bamboo bedding helps people with allergies and asthma sleep through the night.
Bamboo fabric is smooth and durable and Island Slumber Bamboo Bed Sheets have a beautiful sateen finish with a 400 thread count which surpasses the softness and durability of 1,000 thread count Egyptian cotton.
Another reason people love bamboo bed sheets so much is because bamboo is so eco-friendly. Did you know that it takes only 3 to 5 years for bamboo to regrow and replenish itself? And it requires no pesticides or other toxic substances because it has built-in antimicrobe substances which naturally ward off any invaders.
Unlike cotton, which requires tons of herbicides and toxic chemicals to survive and grow, bamboo is a natural. Cotton growing also demands intense labor which is often a result of people working scathing hours in the field, men, women, and even children.
Sometimes people want to now if bamboo bed sheets are easy to care for. How often you choose to wash bamboo bed sheets really depends on your personal preference. One thing to point out is that because bamboo is naturally wicking and breathable, you won't experience night sweats which often interrupt a good night's sleep.
That means your bedding will stay a lot cleaner than it would if it were not bamboo fabric. All you need do is to follow the easy-care instructions that come with your amazing bamboo bedding and it will give you superb wear and enduring comfort for much longer than any other fabric.
An added 'feel-good' benefit when you shop with us is our Plant a Tree program. With each purchase you make, our affiliate partner, American Forests will plant a new tree somewhere in the U.S. We believe 'living green' matters and encourage everyone to leave a harmless footprint on Mother Earth.
This Valentine's Day, give your valentine a gift of enduring, unmatched love. Give them soft, durable bamboo bed sheets, then enjoy the luxurious comfort together. And share with them some of the valuable tips Island Slumber suggests, such as sleeping cooler with a room temperature of 70 degrees or less promotes better sleep. Here are some proven Better Sleep Steps if you want to learn more.
Make this Valentine's Day Extra Special with Island Slumber!
---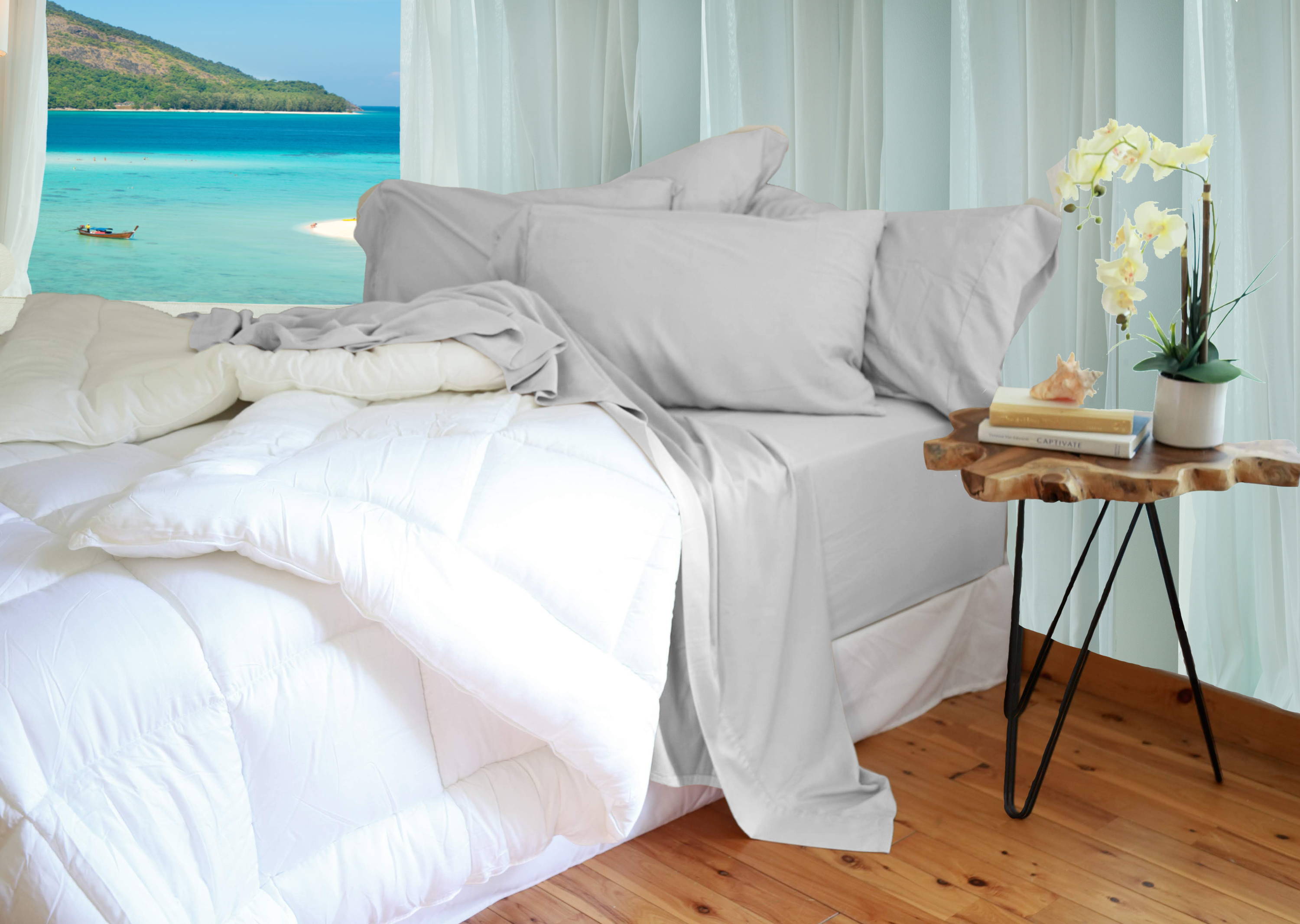 Your Sleep Oasis® is Only a Click Away
What it really comes down to is this. Sleep is a necessity, not a luxury. And finding the best possible sleep environment is the first step to getting the sleep you need for healthy emotional balance. Create your own personal Sleep Oasis®,complete with the natural luxury of bamboo sheets,pillows, and sleep essentials.
---
Products to create your Green Sleep Oasis®