Your hair and skin will reflect the amazing benefits of sleeping on luxurious, bamboo sheets.
Both bamboo and silk are considered luxury bedding and if you're like millions of people trying to find the quality sleep they so desperately need, you may already understand the difference. But in case you're not familiar with the distinctions between bamboo and silk, let's take a closer look.
Considering Comfort
Silk has long been considered the ultimate smooth, 'silky' fabric for luxury, but the reality is, silk can become too slippery and the tight weave can prevent healthy airflow. That forces the sleeper to wake up looking for a cooler spot in the sheets.
Bamboo, on the other hand, is a naturally breathable fabric, letting air flow through the sheets to keep you cool at night. Staying cool contributes to healthier skin and hair and you won't wake up looking like a haystack. On the softness scale, bamboo is often compared to cashmere and offers your skin total comfort.
Enduring Durability
Bamboo won't snag or unravel with a scratch of a jagged toenail. And unlike other fabrics, bamboo gets softer with every wash. Shrinkage is minimal and your bamboo sheets will outlast cotton or silk.
Manageable Maintenance
Silk sheets require delicate, careful hand washing with a special detergent. Bamboo sheets are completely machine washable, getting softer with every wash.
Allergy Free
Naturally hypoallergenic, both silk and bamboo share allergy-free properties and both are resistant to mildew. However, bamboo also resists fungus and other microbes, as well as, the ability to wick away moisture which causes unpleasant smells if trapped in the fabric. Your hair and skin will benefit from the antimicrobial properties of allergy-free bamboo and keep you free from unhealthy moisture due to perspiring
Practical Price
Without question, bamboo is a better value. Silk can compete price-wise only if you compare lesser quality silk sheets to bamboo. Pure silk sheets can cost upwards of $800, while natural bamboo is far more competitive
And the Winner Is…
Bamboo! Let's face it, you simply cannot get deep, restful sleep when you're hot and sliding around all over the bed. Plus, waking up with scraggy hair and sweaty skin is anything but healthy. Island Slumber Bamboo Sheets are cooler, softer, and easier to maintain than pricey, silk sheets. Still, if you want to spend more money and get less value, that's your decision.
The Bottom Line
Few, if any, fabrics can claim the authentic, natural benefits of bamboo. And Island Slumber linens are 100 percent bamboo, not woven with synthetic fibers of any kind. Island Slumber Bamboo Sheets are:
softer and cooler
easier to maintain
more cost effective
more durable
hypoallergenic
microbe resistant
Island Slumber invites you to discover the luxury, comfort, value, and easy care of our bamboo sheets and bedding. See for yourself and feel good about your purchase. Each time you shop with us, our affiliate partner American Forest will plant a new tree somewhere in the U.S. Our Plant a Tree Program is our way of contributing to an eco-friendly planet and products such as bamboo. Join the movement and feel good about 'living green'.
---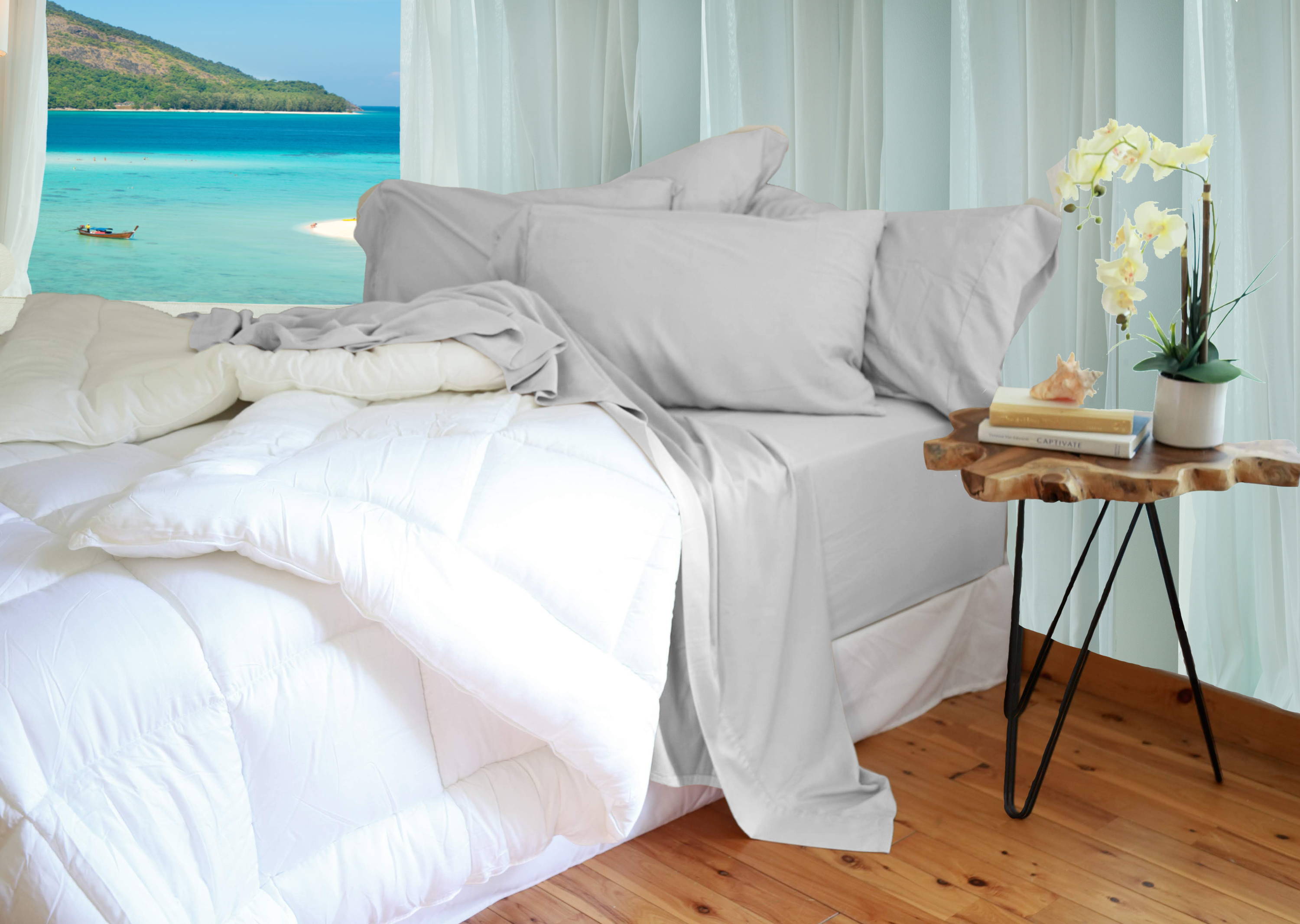 Your Sleep Oasis® is Only a Click Away
What it really comes down to is this. Sleep is a necessity, not a luxury. And finding the best possible sleep environment is the first step to getting the sleep you need for healthy emotional balance. Create your own personal Sleep Oasis®,complete with the natural luxury of bamboo sheets,pillows, and sleep essentials.
---
Products to create your Green Sleep Oasis®