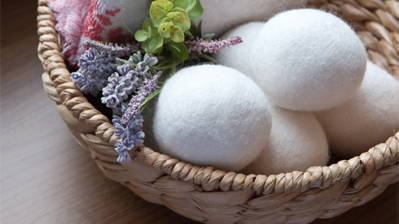 You'll wonder why you waited so long to experience the long-lasting benefits.
Your gift-giving this Christmas season can have a creative, new twist by showering family and friends with Organic New Zealand Wool Dryer Balls! This eco-friendly, non-toxic, super long-lasting dynamo from Island Slumber makes laundry day so much easier and much more rewarding.
Far too many people are using dryer sheets in their dryers. It's alarming because dryer sheets contain acetaldehyde, "potentially carcinogenic to humans". This toxic chemical can adversely impact the kidneys, nervous, and respiratory systems, also causing eczema and other skin problems. Dryer sheets also contain quaternary ammonium compounds which are considered highly toxic to wildlife.
If that isn't reason enough to throw out the dryer sheets and change to organic wool dryer balls, what is? Spread the word to family and friends by introducing them to the healthy way to do laundry and gain the benefits of reduced static cling and as much as 50 percent less drying time. Wow, that means you will save money on your utility bill.
You'll spend less money, too, when you switch to Organic New Zealand Wool Dryer Balls because one dryer ball will last through 1,000 loads of wash. These amazing laundry wonders keep pet hair and lint off your clothes as they dry, as well as keeping clothes from becoming tangled and twisted as they dry.
No worries about smelly fragrances with our wool dryer balls. They are fragrance-free, but you can easily add a favorite essential oil like lavender. You'll feel good knowing that you are not adding to the already overflowing landfills, which is where toxic dryer sheets end up.
There's always someone on your holiday list that's difficult to buy for. That's a problem easily solved. Everyone has laundry to do, so give them a practical, eco-friendly, multi-beneficial gift that will make their task easier and last well into the next year. And because our Organic New Zealand Wool Dryer Balls are so affordable, you can be as generous as a Christmas elf.
Think of all the people you can gift with these remarkable wool dryer balls. Sisters, brothers, people at work, friends from church, aunts, uncles, nieces, nephews, grandmothers, and yes, even significant others. Whether it's a stocking stuffer, part of a 'gift basket', or even a 'thank you' gift, Island Slumber's Organic New Zealand Wool Dryer Balls are a big hit. (And don't forget to order extras for yourself).
Order soon because this product is hugely popular, especially during the holidays.
-Jane Shelton