Few, if any, fabrics can claim the authentic, natural benefits of bamboo. And Island Slumber linens are 100 percent bamboo, not woven with synthetic fibers of any kind. You will sleep in luxurious, healthy comfort as you curl up in plush, earth-friendly bamboo sheets.
Bamboo sheets are naturally hypoallergenic and microbe-resistant. People who suffer with allergies sleep deeper and rest easier on bamboo sheets. Bamboo sheets keep you 3 degrees cooler than non-bamboo fabrics and carry thermal-regulating properties to help keep you cooler in the summer and warmer in the winter.
Because bamboo is moisture absorbent and breathable, you will stay comfortable no matter what the temperature is outside. Bamboo is also the preferred fabric of 'green-conscious' consumers because of its amazing sustainability.
Bamboo takes only 3 to 5 years to replenish itself and does not require any pesticides Because bamboo is sustainable, plentiful, and costs less to grow, it outperforms cotton on many levels.
For people who care about 'living green' and living comfortably, bamboo is the number one choice.
With luxury you expect quality and Island Slumbers' hand-crafted sheets are designed with the care and artistry of the highest quality to deliver both. Finish-out includes double stitched hemlines and extra deep, elasticized pockets on all fitted sheets, fitting mattresses up to 22" beautifully. Durability is without question, so your investment pays you back many times over.
Island Slumber Bamboo Bed Sheets have a beautiful sateen finish and our 400 thread count surpasses the softness and durability of 1,000 thread count Egyptian cotton.
Bamboo sheets have qualities you cannot find in other fabrics.
Ultra-soft Sateen Finish
Plush 400 thread count
Thermal regulating
Antifungal and antibacterial
Smooth and durable advanced box-stitch seams
100% Viscose from Bamboo
Create your ultimate Sleep Oasis® with natural, eco-friendly bamboo bedding and accessories from Island Slumber. Live green, sleep better, and luxuriate in the natural comfort of bamboo sheets.
---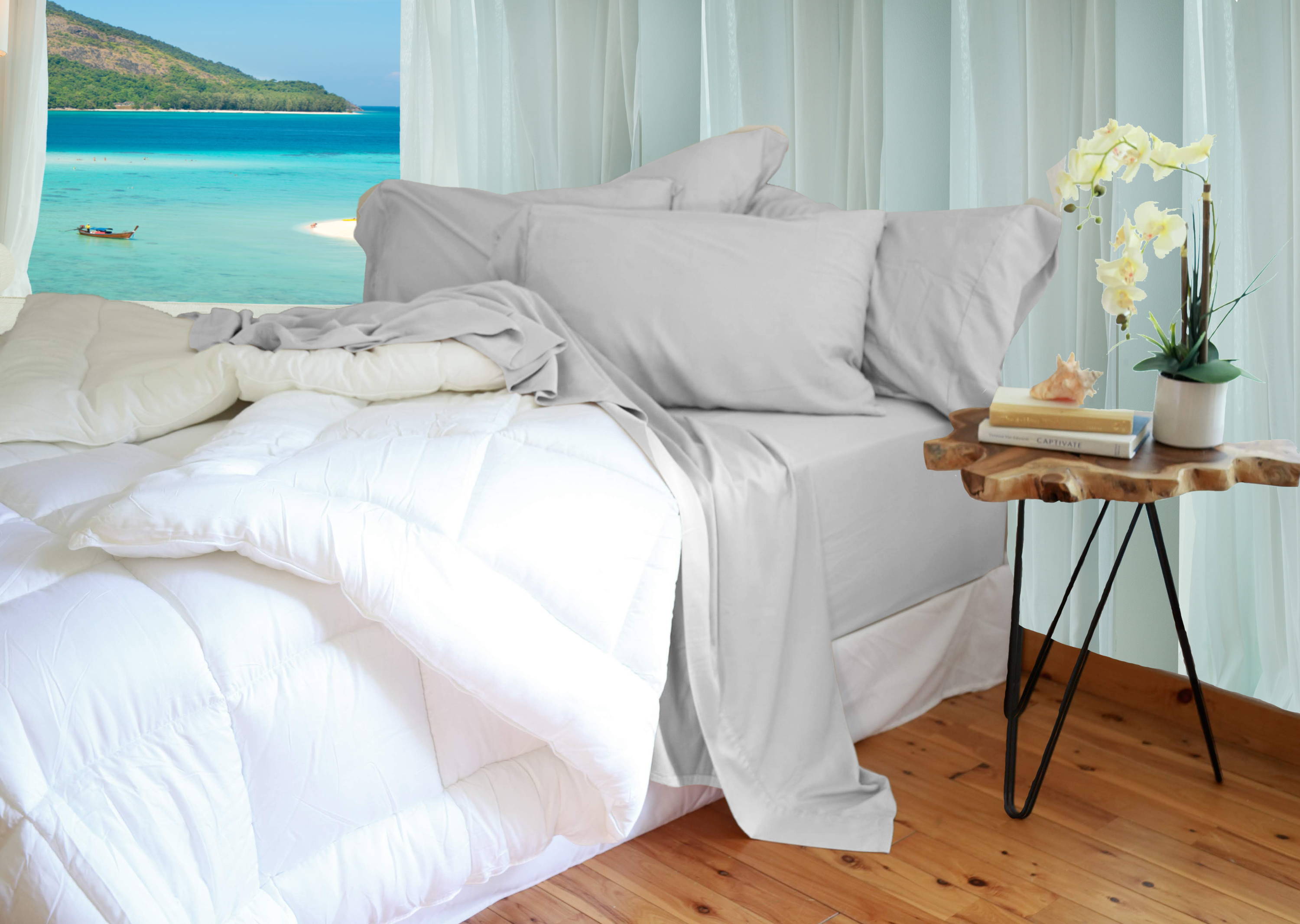 Your Sleep Oasis® is Only a Click Away
What it really comes down to is this. Sleep is a necessity, not a luxury. And finding the best possible sleep environment is the first step to getting the sleep you need for healthy emotional balance. Create your own personal Sleep Oasis®,complete with the natural luxury of bamboo sheets,pillows, and sleep essentials.
---
Products to create your Green Sleep Oasis®